S I T E - M A P
MAIN PAGE THE TRUST NEWS REVIEWS THE BASICS 100 YEARS ELECTROGRAVITICS PLASMA PROPULSION MAGNETOHYDRODYNAMICS FUSION/ANTIMATTER INERTIAL PROPULSION ESOTERIC POWER SYSTEMS PERMANENT MAGNET POWER SYSTEMS HYDROGEN POWER SYSTEMS EM UFO SYSTEMS NAV-COM SYSTEMS THRESHOLD WATER RESULTS CONTACT VIDEO Q &A MAIL LIST/FREEBIES COMING SOON MEDIA RELATIONS PRESS RELEASE LIFTER TECH LINKS OTHER BOOKS OF INTEREST BLOG ABOUT THE AUTHOR
UFO How-To Volume III: Plasma Propulsion Systems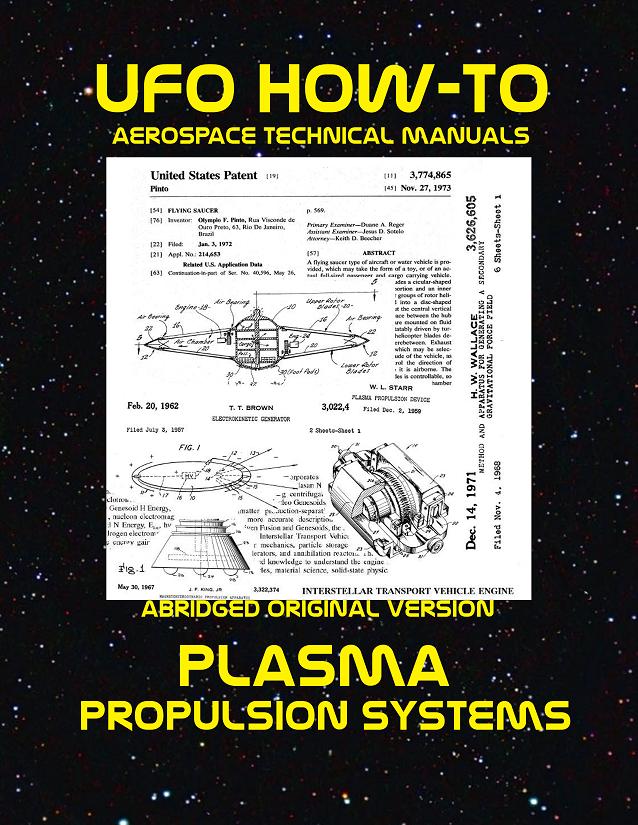 (click images to follow links)
Plasma propulsion.
Powerful thruster systems,
some with an exhaust that burns
hot enough to incinerate just about
anything unfortunate enough
to be in its reaction path.
The next step in the science of rocket-style propulsion,
higher efficiencies of thrust are created by higher burn
temperatures, containment not limited by the
characteristics of the holding materials,
but instead held by electromagnetic fields
that can withstand the temperatures generated,
and far in excess.
UFO How-To Vol. III - Plasma Propulsion

Excerpts from 10 of the 55 entries taken at random from Volume III of the UFO How-To series, and in no particular order:
1) This invention relates to thrusters, and more particularly to arc initiators for pulsed plasma thrusters for spacecraft.


2) This invention relates generally to propulsion devices, and more particularly to a propulsion device based on plasma acceleration principles and adapted for use in a space environment.
With the advent of space travel, the necessity of providing a propulsion system capable of yielding a very large specific impulse so as to require only a small propellant mass takes on new importance. Accordingly, it is the broad object of this invention to provide a propulsion system adaptable for space propulsion and capable of producing a specific impulse which is very much greater than is now obtainable by current chemical systems.
It is an additional object of this invention to provide improved means and methods for accelerating a plasma to high velocities.


3) A plasma propulsion system for aerospace and other applications is disclosed in which an ionized fluid is accelerated through the system by an electric field. The electrons separated from the ionized fluid are accelerated in a direction opposite the ionized flow. A magnetic field decelerates the electrons. The decelerated electrons are collected, conducted downstream, and re-inserted into the ionize


4) This invention relates to a method and combination of apparatus elements for practical mechanical use of energy made available by a gaseous plasma which has energized the gas in the so-called "pinch" effect. More particularly, according to this invention, I control the energy imparted to gases to impart thereto a raised energy state whereby the gas is a useful working medium for reaction engines of various types. All of such energized gas may be utilized alone by direct expansion to produce useful work or in combination with other gases to support combustion and thereby produce a combustion gas in a raised energy state useful for doing work by expansion.


5) The present invention relates to a propulsion arrangement and more particularly to an arrangement utilizing electromotive and magnetohydrodynamic principles for accelerating an ionized medium.
In the development of thrust devices for outer space drives it is recognized that maximum propellant utilization is obtainable by ejecting particles at extremely high velocities. To obtain maximum propellant utilization, the velocities of ejection must approach a major portion of the total velocity increment for the mission contemplated. Persons familiar With chemical reactions will immediately recognize that such velocities are not feasible to attain by known forms of combustion. On the other hand various approaches have been suggested for developing thrust by accelerating ions or charged particles and by applying high voltage electrostatic fields to these particles to attain velocities of the order of tens of thousands of meters per second.
In accordance with the present invention, these velocities are attainable by the use of primary magnetic fields applied to an ionized medium or plasma to induce a motion in the plasma on principles utilized in induction motors. As in the case of induction motors, primary field windings create a moving magnetic field which induces a secondary current in a shunted conductor within the moving field. The secondary current develops a secondary magnetic field, tending to oppose the primary magnetic fields. As the torque developed in an induction motor is a function of the power applied to the primary windings, the thrust force of the present device applied to the plasma conductor within the primary magnetic fields is a function of the power applied to the primary windings. Similarly, the thrust is a function of the slippage between the plasma conductor and the moving primary magnetic field. In the case of an induction motor, a maximum torque is developed during maximum slippage and a maximum velocity is developed during minimum slippage.


6) This invention pertains to the art of controllably producing and of accelerating discharges of gas plasma.
Increases in understanding of electrical discharges in gases have led to particular realization of two facts: that very high temperatures may exist in even small volumes of gases in a terrestrial environment, and that gas molecules in electrical discharges may exhibit very high velocities. So-called "plasma torches" which employ a jet of highly ionized gas plasma as a source of high-temperature energy are known; and there have, of late, been many proposals for the use of high-velocity plasma jets to provide force reactions for the maneuvering of space vehicles, as well as for terrestrial uses to simulate various effects of nature.


7) The present invention deals with a thruster, especially for use in spacecraft, wherein an electric arc is
ignited in a gas flow between a housing which serves as an anode and an expansion nozzle as well as the tip of a cathode which is arranged in same. The cathode is housed so as to be electrically insulated in a first recess of the housing, which is configured as a plenum chamber, with the cathode being positioned with its tip portion spaced by a small air gap upstream of the constricted cross-section of the expansion nozzle and
wherein propulsion gases are injected into the plenum chamber.


8) The present invention pertains to apparatus and method for producing exhaust flow, for providing thrust, for example. More particularly, the present invention relates to techniques for producing thrust for hybrid plume varies from a relatively high value at the propulsive purposes, such as by rocket engines, and finds particular application in the field of engines for space travel.


9) The present invention pertains to apparatus and method for producing exhaust flow, for providing thrust, for example. More particularly, the present invention relates to techniques for producing thrust for propulsive purposes, such as by rocket engines, and finds particular application in the field of engines for space travel.


10) This invention relates to plasma guns and more particularly to an improved plasma gun suitable for use as a space thruster or to produce radiation at selectable wavelengths, including extreme ultraviolet (EUV), vacuum ultraviolet (VUV) and/or soft x-ray radiation at high pulse repetition frequency bands. The invention also involves methods for utilizing such plasma guns.

Plasma propulsion is the nexus to bringing the aerospace companies of today to admitting that they have been concealing UFO technology. With technology like the VASIMR® [The Variable Specific Impulse Magnetoplasma Rocket] finally being acknowledged by NASA and JPL, you realize that it would be a waste to let this opportunity slip by. Be in the know about today's technology, purchase this Volume and be at the forefront of those in the know.
Tell people about this technology. Tell people about these books and this website.
560 total pages
99% of this content are complete patents - only 1% commentary
Perfect Binding, black and white ink
8.5 x 11 inches
BUY VOLUME III "PLASMA PROPULSION SYSTEMS" IN PRINT OR ON ANY DEVICE WITH KINDLE SOFTWARE!
OR
OR
In my ongoing commitment to providing all my readers with excellent service, I ask for your feedback. I wish to ensure every reader the best authorship and publishing quality, and will endeavor to address all comments and concerns sent to me at author@ufohowto.com in as timely a manner as humanly possible.