S I T E - M A P
MAIN PAGE THE TRUST NEWS REVIEWS THE BASICS 100 YEARS ELECTROGRAVITICS PLASMA PROPULSION MAGNETOHYDRODYNAMICS FUSION/ANTIMATTER INERTIAL PROPULSION ESOTERIC POWER SYSTEMS PERMANENT MAGNET POWER SYSTEMS HYDROGEN POWER SYSTEMS EM UFO SYSTEMS NAV-COM SYSTEMS THRESHOLD WATER RESULTS THE COMPLETE PROPOSAL CONTACT VIDEO Q &A MAIL LIST/FREEBIES COMING SOON MEDIA RELATIONS PRESS RELEASE FUNNY LIFTER TECH LINKS OTHER BOOKS OF INTEREST BLOG ABOUT THE AUTHOR MERCHANDISE
UFO How-To Sampler: The Basics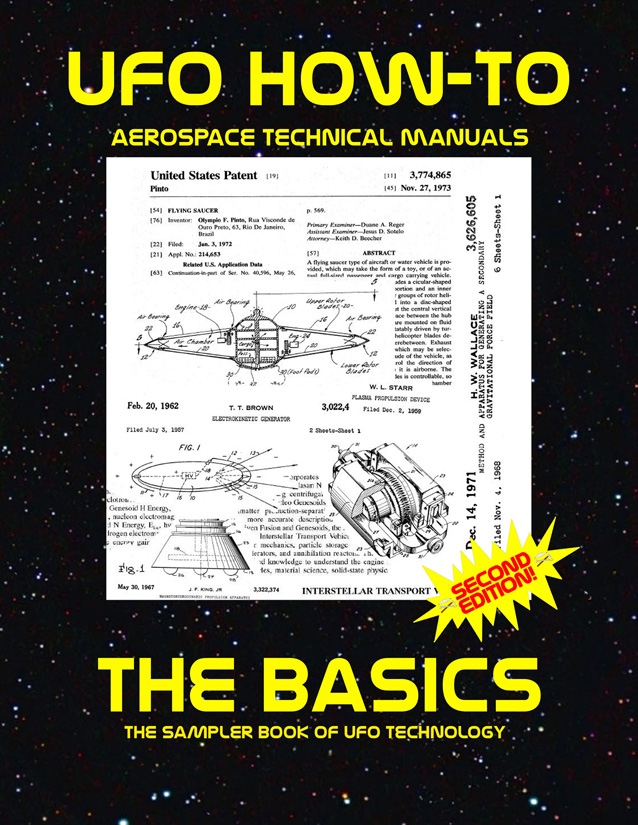 This book was written in response to
the number of requests to simplify the science of the
UFO phenomenon. This introductory book will break down
the science of the "UFO How-To" series into an easily
comprehensible reading, with single examples of each
of the main propulsion types and with
simplified explanations.
UFO-How To: The Basics:

This book contains one patent taken from Volumes II, III, IV, and V, and a "free energy" patent that can be converted to use in car or home.
This volume contains 25% non-patent writing, in the form of commentaries, instructional, Q and A section, and the chart of Nuclear Spin Values.
A great introductory book to the science of UFOs!
Tell people about this technology. Tell people about these books and this website.
120 pages
75% patents - 25% commentary
Perfect Binding, black and white ink
8.5 x 11 inches

BUY "UFO HOW-TO: THE BASICS" IN PRINT OR ON ANY DEVICE WITH KINDLE SOFTWARE!
OR
OR
In my ongoing commitment to providing all my readers with excellent service, I ask for your feedback. I wish to ensure every reader the best authorship and publishing quality, and will endeavor to address all comments and concerns sent to me at author@ufohowto.com in as timely a manner as humanly possible.