S I T E - M A P
MAIN PAGE THE TRUST NEWS REVIEWS THE BASICS 100 YEARS ELECTROGRAVITICS PLASMA PROPULSION MAGNETOHYDRODYNAMICS FUSION/ANTIMATTER INERTIAL PROPULSION ESOTERIC POWER SYSTEMS PERMANENT MAGNET POWER SYSTEMS HYDROGEN POWER SYSTEMS EM UFO SYSTEMS NAV-COM SYSTEMS THRESHOLD WATER RESULTS CONTACT VIDEO Q &A MAIL LIST/FREEBIES COMING SOON MEDIA RELATIONS PRESS RELEASE LIFTER TECH LINKS OTHER BOOKS OF INTEREST BLOG ABOUT THE AUTHOR
UFO How-To Volume VIII: Permanent Magnet Power Systems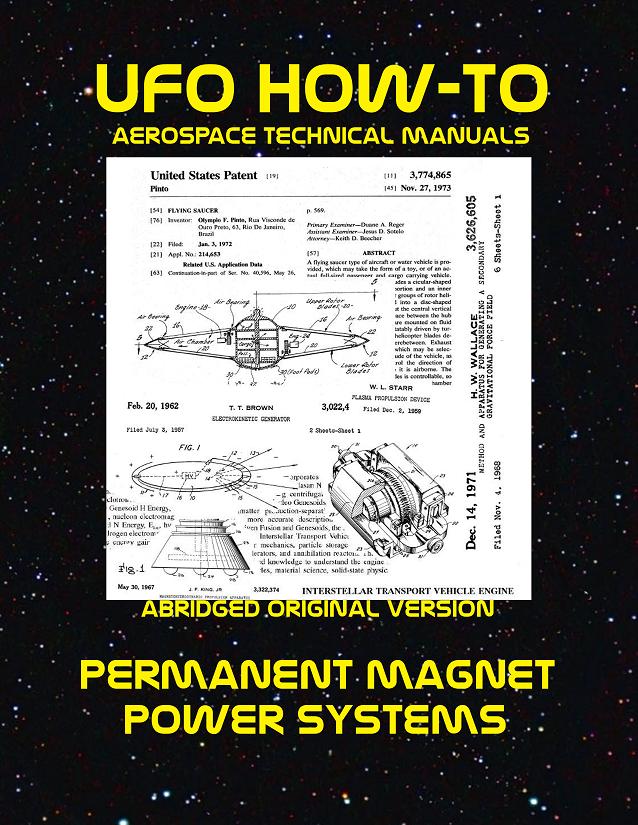 (click images to follow links)
Whether one chooses to use the words
self running,
self starting,
self powered,
over unity, or
perpetual motion,
the end goal is the same:
A power system that can meet required energy needs.
In these pages are found those power systems.
Now with over 100 pages of new material!
Excerpts from 10 of the 55 entries taken at random from Volume VIII of the UFO How-To series, Permanent Magnet / Self-Powered Systems,
and in no particular order:
The invention described herein is an apparatus for the production of electricity without consuming any fuel or energy, with one continuous motion.

Up to the present time there have been perpetual motion devices which use the known principles described below. These known devices do not produce any excess energy. Any of the devices described here will produce an excess of energy, while at the same time work perpetually without an external source of energy, but yet are very simple to construct.
"This invention relates to electric rotating machines and more particularly to electric motors having a self-starting capability."
"A magnetically driven generator/motor for producing singly or simultaneously mechanical and electrical energy outputs, having a housing including circular frame members with electromagnet drivers about corresponding driven magnets attached to at least one rotating stage fixed to a drive shaft and also carrying field coils, at least one counter rotating stage, bearing mounted to the drive shaft with peripheral driven magnets and armatures which produce electricity when rotated past the field coils."
"The invention relates to a permanent magnet perpetual motion machine in which one permanent magnet arrangement sets up a steady field in an annular air-cap which interacts with the" field of another arrangement which comprises of a set of permanent magnets in a particular layout, or a particularly shaped coil connected to a D.C. source, located in the annular air-cap, to cause perpetual rotation of either of the two arrangements, the other being stationary."
"A permanent magnet motor in one embodiment utilizes a spring-biased reciprocating magnetizable member positioned between two permanent magnets. Magnetic shields in the form of rotatable shutters are located between each permanent magnet and the reciprocating member to alternately shield and expose the member to the magnetic field thereby producing reciprocating motion. A second embodiment utilizes a pair of reciprocating spring-biased permanent magnets with adjacent like magnetic poles separated by a magnetic shield which alternately exposes and shields the like poles from the repelling forces of their magnetic fields."
"A permanent magnet motor which generates mechanical output power by the repulsion forces between a movable permanent magnet and a fixed permanent magnet. A movable magnetic shield is interposed between the magnets when they are adjacent one another and then the shield is moved to expose the fixed magnet as the movable magnet passes by. A second fixed magnet can be added to increase the output power by attracting the movable magnet as it approaches. The movable magnetic shield is interposed between the movable magnet and the second fixed magnet when they are adjacent one another."
"[This invention is] to provide a highly efficient permanent magnet motor which can reduce armature reaction flux, improve magnetic flux distribution in an outer core, and thereby reduce noise and vibration. "
"A power plant comprising axle fitted with a turning force takeout part and, coaxially arranged thereon, generator capable of outputting a power and rotor driven and rotated by an electromagnetic force imparting means, said electromagnetic force imparting means capable of producing an electromagnetic force with the use of an input power, wherein, with respect to the axle, a dimension of position of imparting of a rotary driving force to the rotor in the electromagnetic force imparting means is larger than a dimension of position of output power production in the generator to thereby enable takeout, from the turning force takeout part of the axle, of a rotational energy greater than an energy equivalent to an input power applied to the electromagnetic forced imparting means. Further, an output power greater than the input power can be taken out with the use of the power plant. The takeout of an output energy greater than the input power is advantageous from the viewpoint of meeting the demand for resource saving and energy saving."
"A multi-phase unipolar motor is configured such that each stator pole is formed with bifilar wound primary and inductively associated secondary windings corresponding with one phase. The primary winding at one stator pole corresponding with one phase is coupled with a secondary winding at another stator pole corresponding with another phase to provide a commutational-step defined winding pair. The resultant winding pair assemblage is energized in correspondence with a commutational sequence such that collapsing field energy may be transferred from a primary winding at the termination of one step in the commutational sequence to the secondary winding associated with it in a next succeeding commutational step."
The ability of the magnet has only been harnessed by science incompletely. It is capable of generating far more power than the establishment lets on. The technologies contained in this book reveal the full potential of the magnet for power generation. Herein you learn that self-sustaining systems are real. Herein you learn that the Second Law of Thermodynamics has been misapplied to these energies. Power generation doesn't transfer electricity -- it pumps electricity. You understand the secret hidden away all these years. You understand that you have nothing to lose and everything to gain by learning this knowledge. Own this book and become the master of electricity.
Tell people about this technology. Tell people about these books and this website.
621 total pages
99% of this content are complete patents - only 1% commentary
Perfect Binding, black and white ink
8.5 x 11 inches
BUY VOLUME VIII "PERMANENT MAGNET SYSTEMS" IN PRINT OR ON ANY DEVICE WITH KINDLE SOFTWARE!
OR
OR
In my ongoing commitment to providing all my readers with excellent service, I ask for your feedback. I wish to ensure every reader the best authorship and publishing quality, and will endeavor to address all comments and concerns sent to me at author@ufohowto.com in as timely a manner as humanly possible.