S I T E - M A P
MAIN PAGE THE TRUST NEWS REVIEWS THE BASICS 100 YEARS ELECTROGRAVITICS PLASMA PROPULSION MAGNETOHYDRODYNAMICS FUSION/ANTIMATTER INERTIAL PROPULSION ESOTERIC POWER SYSTEMS PERMANENT MAGNET POWER SYSTEMS HYDROGEN POWER SYSTEMS EM UFO SYSTEMS NAV-COM SYSTEMS THRESHOLD WATER RESULTS CONTACT VIDEO Q &A MAIL LIST/FREEBIES COMING SOON MEDIA RELATIONS PRESS RELEASE LIFTER TECH LINKS OTHER BOOKS OF INTEREST BLOG ABOUT THE AUTHOR
UFO How-To Volume VII: Esoteric Power Systems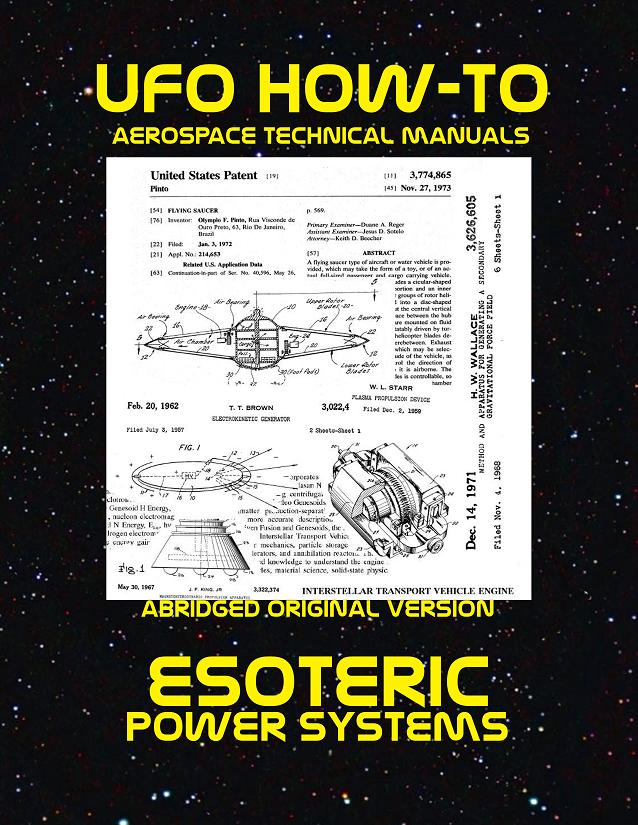 (click images to follow links)
In these pages are found power systems that defy conventional technology:
atomic batteries,
acoustic-magnetic power systems,
electrical recovery systems,
an engine that runs on atomic waste,
cosmic flux turbine,
the linear magnetic generator,
the electric capacitive pulse discharge engine...
Excerpts from 10 of the 45 entries taken at random from Volume VII of the UFO How-To series, Esoteric Power Systems,
and in no particular order:
"An engine is provided which will greatly reduce atmospheric pollution and noise by providing a sealed system engine power source which has no exhaust nor intake ports."

"A motor shaft rotates from energy derived from charged particles emitted from atomic waste."

"A method and apparatus are provided for converting electromagnetic radiation directly into electricity. The method aligns a plurality of ferromagnetic nanocrystals to produce an aggregate magnetic field; utilizes an electrical coil in the aggregate magnetic field; and alternately directs and removes radiant energy from the ferromagnetic nanocrystals such that the aggregate magnetic field decays and regenerates to produce a current in the electrical coil. The apparatus includes either a distribution or a stackup of ferro-magnetic nanocrystals and an electrical coil, the combination of the nanocrystals and the electrical coil operating with energy derived from the source of radiant energy."

"It is well known that charged capacitor plates exhibit significant attractive forces between the plates, this invention is just converting this available short linear motion into a continuous circular motion."

"Ferroelectric, pyroelectric and piezoelectric crystals are used to generate spatially localized high energy (up to and exceeding 100 keV) electron and ion beams, which may be used in a wide variety of applications including pulsed neutron generation, therapeutic X-ray/electron devices, elemental analysis, local scanning chemical analysis, high energy scanning microscopy, point source compact transmission electron microscopy, compact ion beam sources, positron sources, micro-thrusters for ion engines, and improved fusion efficiency especially of the Farnsworth type. The high-energy emission can be created by simply heating the material or by application of external coercive electromagnetic and acoustic fields."

"Presenting a free energy electric motor that is a motor that produces much greater power than it uses to run it, because the armature has no magnetic coil windings where it is comprised only of iron and is motored by a timed sequence of intermitting electrical excitation of the stator magnetic coils."

"An object of this invention is to provide a portable, hand carried nuclear powered battery."

"A power generator is provided and includes a piezoelectric transducer which generates electric power upon application of a strain."

"Apparatuses and methods are disclosed for utilizing low frequency acoustic waves to extract energy from ambient air surrounding and object. The disclosed methods and apparatuses can be used for levitation of an object or to impose thrust on an object such as a rotor of an electrical generator, a passenger car, an aircraft, a marine vessel, a railroad car, etc. The disclosed techniques include attaching a low frequency sonic oscillator to a body to be moved or whose location is to be controlled. The oscillators create vacuums or low energy wells into which the objects are moved or levitated. Alternatively, the oscillators may be used to concentrate gas particles on a portion of a closed container, thereby causing a net force to be applied against the container wall and moving the container. The disclosed low frequency acoustic oscillators can also be used for levitation purposes."

"An explosive flux compression generator is coupled to a high resistance load by a pulse transformer."
Esoteric Power Systems will not only solve the fuel needs of the Next Space Race, but will eliminate the fuel crisis facing the world. Reading this book will arm you with the knowledge to be able to address and solve these world fuel problems. You have nothing to lose and everything to gain by understanding these sciences. Buy this book to empower yourself. Bring a better quality of life to the far the corners of the globe, improve the quality of life in every down-trodden third world country, or prepare yourself to become wealthy in the new prospecting rush -- mining the asteroid belt, prospecting for oil or precious metals on the moons of Jupiter... The time is now.
Tell people about this technology. Tell people about these books and this website.
614 total pages
99% patents - 1% commentary
99% of this content are complete patents - only 1% commentary
8.5 x 11 inches
BUY VOLUME VII "ESOTERIC POWER SYSTEMS" IN PRINT OR ON ANY DEVICE WITH KINDLE SOFTWARE!
OR
OR
In my ongoing commitment to providing all my readers with excellent service, I ask for your feedback. I wish to ensure every reader the best authorship and publishing quality, and will endeavor to address all comments and concerns sent to me at author@ufohowto.com in as timely a manner as humanly possible.