S I T E - M A P
MAIN PAGE THE TRUST NEWS REVIEWS THE BASICS 100 YEARS ELECTROGRAVITICS PLASMA PROPULSION MAGNETOHYDRODYNAMICS FUSION/ANTIMATTER INERTIAL PROPULSION ESOTERIC POWER SYSTEMS PERMANENT MAGNET POWER SYSTEMS HYDROGEN POWER SYSTEMS EM UFO SYSTEMS NAV-COM SYSTEMS THRESHOLD WATER RESULTS CONTACT VIDEO Q &A MAIL LIST/FREEBIES COMING SOON MEDIA RELATIONS PRESS RELEASE LIFTER TECH LINKS OTHER BOOKS OF INTEREST BLOG ABOUT THE AUTHOR
UFO How-To Volume XII: On The Threshold Of Tomorrow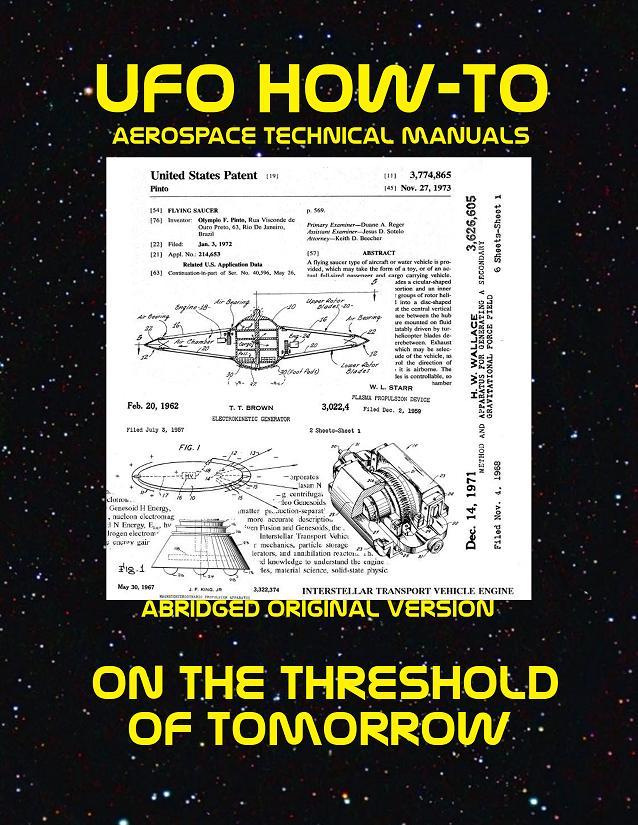 (click images to follow links)
Volume XII of the UFO How-To series "On the Threshold of Tomorrow" is different from the other Volumes of the UFO How-To series in that it focuses on Patent Applications, not patents. The inventions listed therein have not yet been approved by the Patent office of the United States. They are inventions waiting to be judged by the USPTO. Will they be granted patent status? Will they be classified? Only time will tell. The possibilities that face us now are in a word, fantastic.
What if I told you that the gas companies know how to make technology that would allow you to get 10,000 miles to the gallon? Would you believe it if you saw Shell Gas Co. admit to it?
That admission is found on page 603: 10,000 MPG Carburetor Confirmed by Shell Gas Company.
Excerpts from Volume XII of the UFO How-To series, in no particular order:
A pulsed gravitational wave wormhole generator system that teleports a human being through hyperspace from one location to another.

System for converting high frequency quantum electrodynamic radiation energy and at least one atom through cavity vacuum fluctuations and converting same into a superconductive electrical implosion propulsion energy from zero point energy at a frequency that is amenable to conversion to electrical and implosive propulsion and superconductive energy extracted within an environment having a desired voltage and a reversed waveform such that the emitted energy returns into the system to be recycled.

The present invention relates to the use of technical drive systems, which operate by the modification of gravitational fields. These drive systems do not depend on the emission of matter to create thrust but create a change in the curvature of space-time, in accordance with general relativity. This allows travel by warping space-time to produce an independent warp drive system. Differentials electron flow through a body in rotation is directed so as to simultaneously pass through a said body.

An electrodynamic method includes providing an electrodynamic structure with a periphery, providing power, collecting electrons, and emitting electrons. The emitting electrons and the collecting electrons utilizes at least 20% of the periphery of the electrodynamic structure. The method includes conducting current to provide at least one of electrodynamic propulsion and power generation.

An article and device are provided comprising a switchable microstructure or nanostructure array of non-parallel conducting plates, supported by a plurality of shaped prismatic oxide stages upon layered conductive and substrate-base materials, for directly generating a lateral or transverse Casimir force. Illustrative embodiments include a device for switchable generation of lateral or transverse Casimir force components that work in an orthogonal direction to normal Casimir forces which can be externally switched "on" or "off" electronically, mechanically or thermally by using a semiconductor PN-junction or superconductor to produce a thrust for guidance, maneuvering and propulsion of a manned or unmanned space vehicle, or in other novel applications requiring generation of precisely switched or continuous forces.

A hyperspace energy generator that uses cavitating oil bubbles within a magnetic field in order to create wormholes between space and hyperspace for the purpose of permeating the hull of a spacecraft with low-density hyperspace energy.

You are living in an era of boundless possibilities. But you have been unaware of those possibilities available to you, until now.
Tell people about this technology. Tell people about these books and this website.
609 total pages
99% of this content are complete patents - only 1% commentary
Perfect Binding, black and white ink
8.5 x 11 inches
BUY VOLUME XII "ON THE THRESHOLD OF TOMORROW" IN PRINT OR ON ANY DEVICE WITH KINDLE SOFTWARE!
OR
OR
In my ongoing commitment to providing all my readers with excellent service, I ask for your feedback. I wish to ensure every reader the best authorship and publishing quality, and will endeavor to address all comments and concerns sent to me at author@ufohowto.com in as timely a manner as humanly possible.