S I T E - M A P
MAIN PAGE THE TRUST NEWS REVIEWS THE BASICS 100 YEARS ELECTROGRAVITICS PLASMA PROPULSION MAGNETOHYDRODYNAMICS FUSION/ANTIMATTER INERTIAL PROPULSION ESOTERIC POWER SYSTEMS PERMANENT MAGNET POWER SYSTEMS HYDROGEN POWER SYSTEMS EM UFO SYSTEMS NAV-COM SYSTEMS THRESHOLD WATER RESULTS CONTACT VIDEO Q &A MAIL LIST/FREEBIES COMING SOON MEDIA RELATIONS PRESS RELEASE LIFTER TECH LINKS OTHER BOOKS OF INTEREST BLOG ABOUT THE AUTHOR
UFO How-To Volume XI: NAV-COM Systems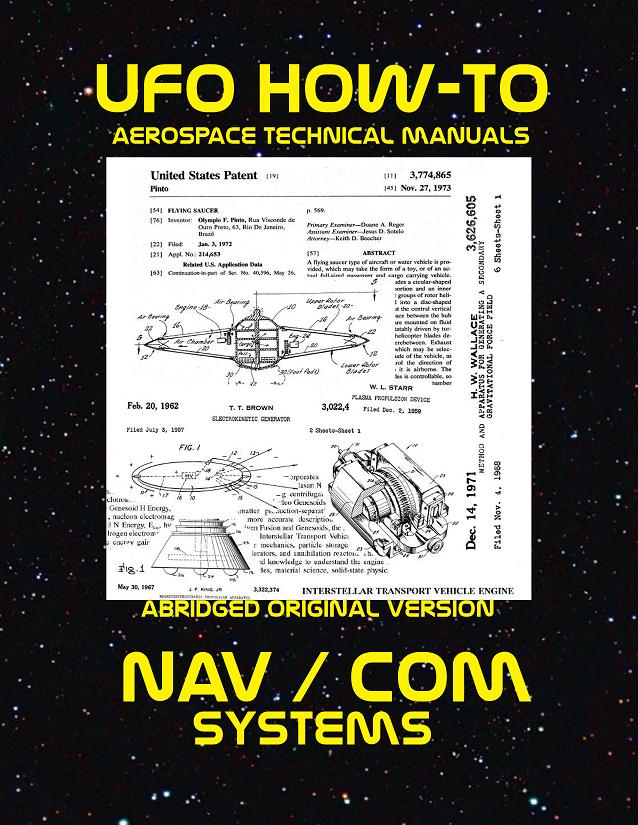 (click images to follow links)
This volume of the UFO How-To encyclopedia series is focused upon Navigation and Communication Systems [NAV / COM] for flying craft. Some of the patents are specifically for aircraft, some for spacecraft. The aircraft patents are included because not all flying saucers are capable of leaving the Earth's atmosphere. Among the six main choices of propulsion available, the "airfoil" type is locked to the Earth's atmosphere. All the other types [electrogravitic, plasma propulsion, magnetohydrodynamic, fusion/fission/antimatter, and inertial propulsion] are geared for space travel, and all those types of craft can be designed specifically for space travel, or as hybrid atmospheric-to-outer-space crafts.
Volume X of the UFO How-To series "EM UFO Theory" has as the meat of its curriculum [270+ pages] the patent that can be used as a "directed energy weapon, an illuminator for an active sensor and/or guidance system, counter-measure…" This patent has not been replicated in this volume, but is definitely worth reviewing before construction is attempted.
The information is presented to stimulate your thoughts, and to help acquaint you with the navigation and communications systems in aerial and space craft.
Excerpts from 10 of the 51 entries taken at random from Volume I of the UFO How-To series,
and in no particular order:


1) An object of this invention is to provide means for establishing a magnetic field in a space vehicle with the field being of sufficient strength to cause cycling of the electrons in the ionized plasma sheath surrounding the space vehicle at a frequency which is greater than the frequency of a transmitted communication signal from the space vehicle.


2) This invention relates generally to communicating through a layer of ionized gases formed around a space vehicle as it enters or leaves a planetary atmosphere.


3) This invention pertains to space navigation and particularly to navigation accomplished by noting the position of the stars in relation to a planet such as the Earth.


4) This invention relates to the communications art and in particular to the transfer of information by means of beams of modulated neutrino and antineutrino waves between an emitter and a receiver.


5) The present invention relates to a new type of antenna for transmission and reception of RF signals. The present invention can be used to replace conventional antennas. It is believed that this invention can transmit energy at a faster speed and over a greater distance than conventional antennas with the same power.


6) The present invention utilizes a resonant frequency setup between identical masses to transmit information by gravitational wave pulses.


7) Technical field is telecommunications; cavity quantum electrodynamics the Davy tachyon transceiver transformer transforms superluminal tacnyon spacetime quanta energy by means of magnetic induction between a superluminal electron pole through a Davy-Klein-Lobatchevskian-wormhole-spacetime singularity by conforming a relativistically contracted electron through a Lorentz transformation to Davy-Klein-Lobatchevskian wormhole-spacetime-singularity conditions in vacuum connecting a resonance instantaneously without relativistic time-delay by means of electron free-electron-lepton-photon-lepton-positron-lepton- tachyon-metamorphosis in vacuum, which connects resonance instantaneously to another cavity quantum electrodynamic vacuum tuned to the pre-stated vacuum cavity conditions.


8) Apparatus and methods for divided space globes of electromagnetic energy to travel through universal space at nearly infinite speeds providing real time communications over distances up to interplanetary.


9) The antenna designed to transmit or receive an electronic intelligent signal such as voice, video or computer information, will transmit said signals faster than light at infinite speed over distances of several kilometres on the average when hooked up to regular communications equipment. Other than this invention no such equipment exists in the world that we know of. In the field of science, communications and electronics in general, it often becomes necessary to somehow compensate by electronic means for time delay factors which are caused by the fact that regular radio signals are not instantaneous, but are limited to the speed of light. To give an example if in the future a manned mission to Mars will be made, the astronauts can talk directly to the control centre in Houston without having to wait so many minutes for a reply. The faster than light antenna eliminates this time factor.


10) A space navigation system wherein there is provided an evacuated enclosure in a space craft containing a central mass. This central mass is free floating and will thus follow a gravitational orbit. The enclosure includes sensing means for sensing any deviation of the position of the central mass from a given position and utilizing the signals developed as a consequence of such deviation for operating suitable propulsion units on the spacecraft so that the central mass will again be properly centered in the enclosure. Also included are force units for applying a force purposefully to the central mass to cause an intentional deviation thereof. This intentional deviation places the central mass in a new desired orbit in accordance with a desired navigational plan. The sensed changes in turn will then operate the propulsion units of the spacecraft to cause the craft to follow the new course.

Tell people about this technology. Tell people about these books and this website.
629 pages
99% of this content are complete patents - only 1% commentary
Perfect Binding, black and white ink
8.5 x 11 inches

BUY VOLUME XI "NAV-COM SYSTEMS" IN PRINT OR ON ANY DEVICE WITH KINDLE SOFTWARE!
OR
OR
In my ongoing commitment to providing all my readers with excellent service, I ask for your feedback. I wish to ensure every reader the best authorship and publishing quality, and will endeavor to address all comments and concerns sent to me at author@ufohowto.com in as timely a manner as humanly possible.